Interview with Steinberg


"For one of his latest projects, the soundtrack for the Formula 1 video game, Ian set up his workplace at the legendary Abbey Road Studios. In the interview with Steinberg, Ian tells us how he fell in love with the well-oiled Abbey Road machine and why he has always been a keen user of Cubase, Nuendo and CC121." … Read full article.
Interview with Resolution Magazine: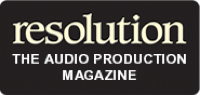 "Somewhere in the unassuming suburbs of Surrey, there's a composer with the type of small studio we'd all like to own tucked away in his garden. This is no gazebo-with-laptop: this is a brick-built, double-walled room with acoustics from Studio Wizard and a nice Quested 5.1 monitoring system [3208s with 2108s at the rear and a custom 3208 'stretch' version for the centre channel]. There are a couple of huge Apple screen, a sampling rig big enough for Hans Zimmer and one of those player-piano Yamaha Disklaviers capable of frightening the clients when the ivories start dancing to a recorded MIDI part. The inclusion of an air-conditioned machine room and private powder-room qualifies the building as a micro-facility, 2010-style." … Read full article
Feature for quested.com

"Classically-trained composer, Ian Livingstone, is no stranger to the world of game soundtracks and, from the soaring score of Battlefield 1943 through Batman Begins, Buffy The Vampire Slayer, Trivial Pursuit, Predator Concrete Jungle and many more, his Quested 5.1 system delivers everything he needs." … Read full article
Feature for develop-online.net

"Multimedia composer Ian Livingstone has been creating game audio since 1994, we explore his career so far" … Read full article
Interview with yiya.de
"Along in our series of interviews about music in games, we had the chance to speak with talented the young composer Ian Livingstone. Even though his name has not been so common in the gaming industry by now this may change very soon, seeing his tremendous talents.
Preparing my review for the much underrated game Mace Griffin Bounty Hunter (see Review), I was overwhelmed by the music played in the intro of this game and then, even before starting the game, I had to check the manual looking who is responsible for that music. And not only the main theme got me hooked, in fact all of Ian's music has this quality." … Read full article